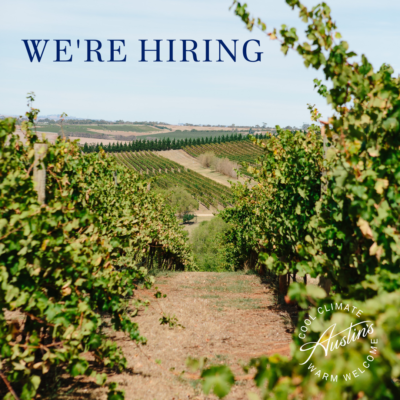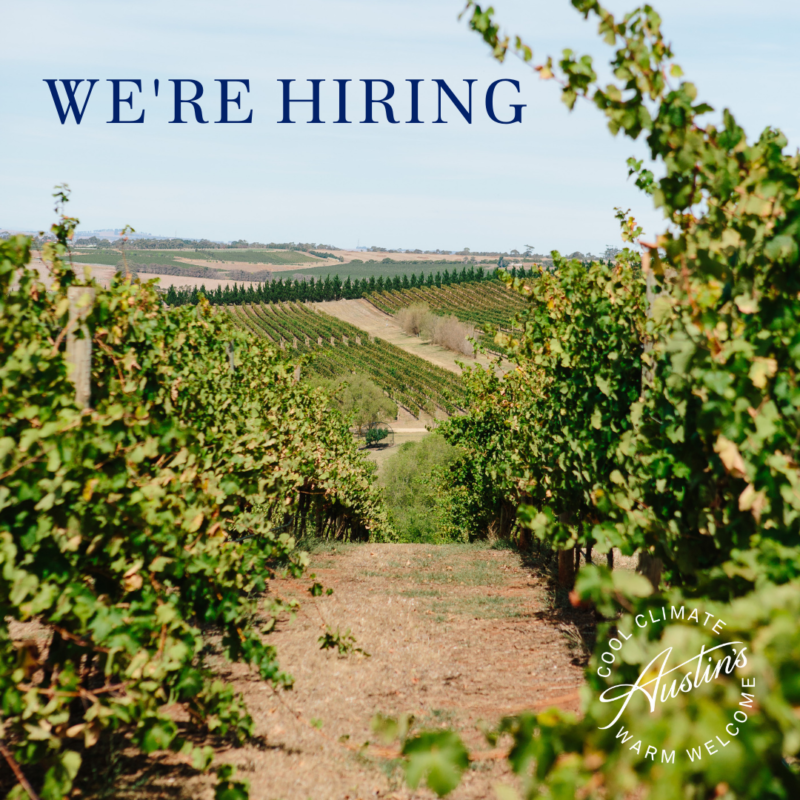 Vineyard Manager – Job Summary
We're searching for an experienced and knowledgeable Vineyard Manager to join our team at Austin's.
Located in the Moorabool Valley Geelong, this role will be responsible for leading and overseeing the effective management of our vineyard whilst working in collaboration with our winery team to produce high quality fruit which is the backbone of our consistently fantastic wines!
The role presents a great opportunity for a skilled individual to lead a critical part of our business and have full control of our vineyard operations whilst working in a supportive team environment to achieve collective goals.
Account Manager – Job Summary
Job Summary
Are you motivated by not just hitting your sales targets but exceeding them?! Consider building strong relationships that are win-win one of your ultimate key strengths? Last but definitely not least, do you love wine and know your Pinot from your Shiraz??
Austin's are searching for an experienced Sales professional who has a track record of growing sales through well-thought out and executed sales plans and strategies that deliver strong results and long-term customer relationships.
This role will look after the Melbourne territory and contribute within a fun, motivated team in order to achieve shared goals and success!
About the role
The focus of this role is to continue supporting the growth and presence of both our 6Ft6 and Austin's brands in on and off-premise sites across Victoria. Seeking out new business opportunities and coming up with creative initiatives to add value to our customers operations and ultimately their bottom line and in turn ours, is key.
Here's what you'll be responsible for in the role:
Identifying key-decision makers, understanding their business challenges and recommending product/range solutions to maximise sales opportunities
Developing sales plans to achieve agreed volume, gross margin and revenue targets
Providing an excellent sales experience to accounts/customers that are win-win
Proactively building customer relationships through regular face-to-face interaction as well as over the phone
Analysing sales performance and preparation of monthly reports including market position, future development, competitor activity and follow-up actions
Maintaining up to date pipe-line opportunities in CRM ensuring a focus on your top priorities
Keeping up to date with changes in the requirements of customer accounts and seeking out and participating in relevant industry training initiatives including growth and sales initiatives to increase our brand awareness and reach
Supporting the team at events and promoting our brands
Who are we looking for?
Someone that is a natural self-starter, determined and gets a kick out of landing impressive sales deals. We're searching for a forward thinker who thinks big picture and comes to the table with great and actionable ideas for growth. We're all about being bold and venturesome at Austin's so if you share these values, then you've come to the right place!
Other requirements include:
2-5 years sales or business development experience within a B2B role
Proven track-record of meeting (and exceeding) sales targets as well as developing new business relationships
Prior experience working within the wine industry is a huge bonus! Or the beverage industry as a whole.
Absolutely incredible at building relationships – this means being truly customer focused to listen to their needs and maintain their confidence and trust
A strong team-player and someone who contributes well to the overall team experience
Takes ownership for maintaining accurate and insightful information on customers and opportunities in CRM
Self-starter who is driven and highly motivated to initiate action and achieve outcomes
Strong problem solver who is quick to make informed decisions that are relevant and commercially viable
Strategic – can understand the bigger picture and join the dots to identify sales opportunities
Forward thinker – works not just in the now but also can predict future needs of customers and capitalise on these ahead of time
Dedicated focus on new business opportunities
Innate curiosity and drive to constantly be learning about new products, processes etc.
Strong account management skills including budgeting, forecasting and CRM
Role requires a valid driver's licence
The Perks
Flexible working options – we trust our team to achieve their goals how they see fit.
An organisation that is committed to providing career growth.
A fabulous team to work with, vibe off and socialise with.
Access to some damn delicious wine!