View an Austin's wedding and get 10% off- February ONLY
For the whole month of February, we will be setting up a unique Tipi marquee site for you to view and check out what your dream wedding could look like at our winery wedding venue.
To launch this exciting new partnerships package, we are giving 10% off the site package fee* for any couple that views the Moorabool Paddock site throughout February.
Please fill out our form below and a wedding brochure will be emailed to you with  further details on pricing, inclusions and relevant information.
Your 30 minute appointment can be made by clicking here.
*package price is site fee package exclusive of food and beverage catering. 10% discount applied to all deposits received prior to 29th February 2020.
A rustic winery wedding venue
Austin's is a 1,500-acre private property vineyard estate, located in the Moorabool Valley, Geelong.
Less than one hour from Melbourne and twenty minutes from Geelong, Austin's will provide your guests with beautiful vineyard vistas and expansive views of the charming valley.
An all-in-one venue allows you to have your ceremony, photography and reception all at the same location.  With two locations on-premise to choose from, you can hire the Moorabool Paddock or Barrel Hall depending on your style and needs.
So, whether you're looking for a stylish marquee wedding, rustic bohemian soiree or an intimate celebration in the Barrel Hall, we can help tailor our venue to suit your style.
We've partnered with premium suppliers
Austin's are excited to announce our new partnerships with some of Australia's premium wedding suppliers, as part of the new wedding packages available exclusively at Austin's winery.
These partnerships mean we can now offer you:
An end-to-end wedding package including: Tipi marquee, furniture, catering, on the day coordination and all of the finer (and boring) details such as rubbish removal, security and toilets
Greater value for a premium wedding service
Delicious catering menu from canapés, grazing tables and sit down dinners
Drink packages to suit the fussiest of drinkers
Tipi Tipi
Tipi Tipi offer beautiful Nordic Tipis as an alternative to the traditional marquee hire that compliments the natural landscape of the Moorabool Valley.
These tipis are weather resistant to provide you a beautiful venue in dry or wet weather.
Pepper Sprout Hire
Pepper Sprout Hire offer a range of beautiful premium furniture and decor items. From timeless timber Tasmanian oak tables, Bentwood chairs, festoon light, stylish wicker lounges, rustic wine barrels and much more.
Pot & Pan
Pot & Pan use the best ingredients, hand-picked from premium suppliers. Specialising in hearty, intimate share dinners, Pot & Pan also has the most innovative canape menu going around.
Menus can be tailored to suit your taste and budget and perfectly matched to the delicious wines on offer.
REGISTER YOUR INTEREST IN AUSTIN'S WINES AND WE WILL EMAIL YOU OUR WEDDING BROCHURE, DETAILING INCLUSIONS AND VENUE HIRE COSTS.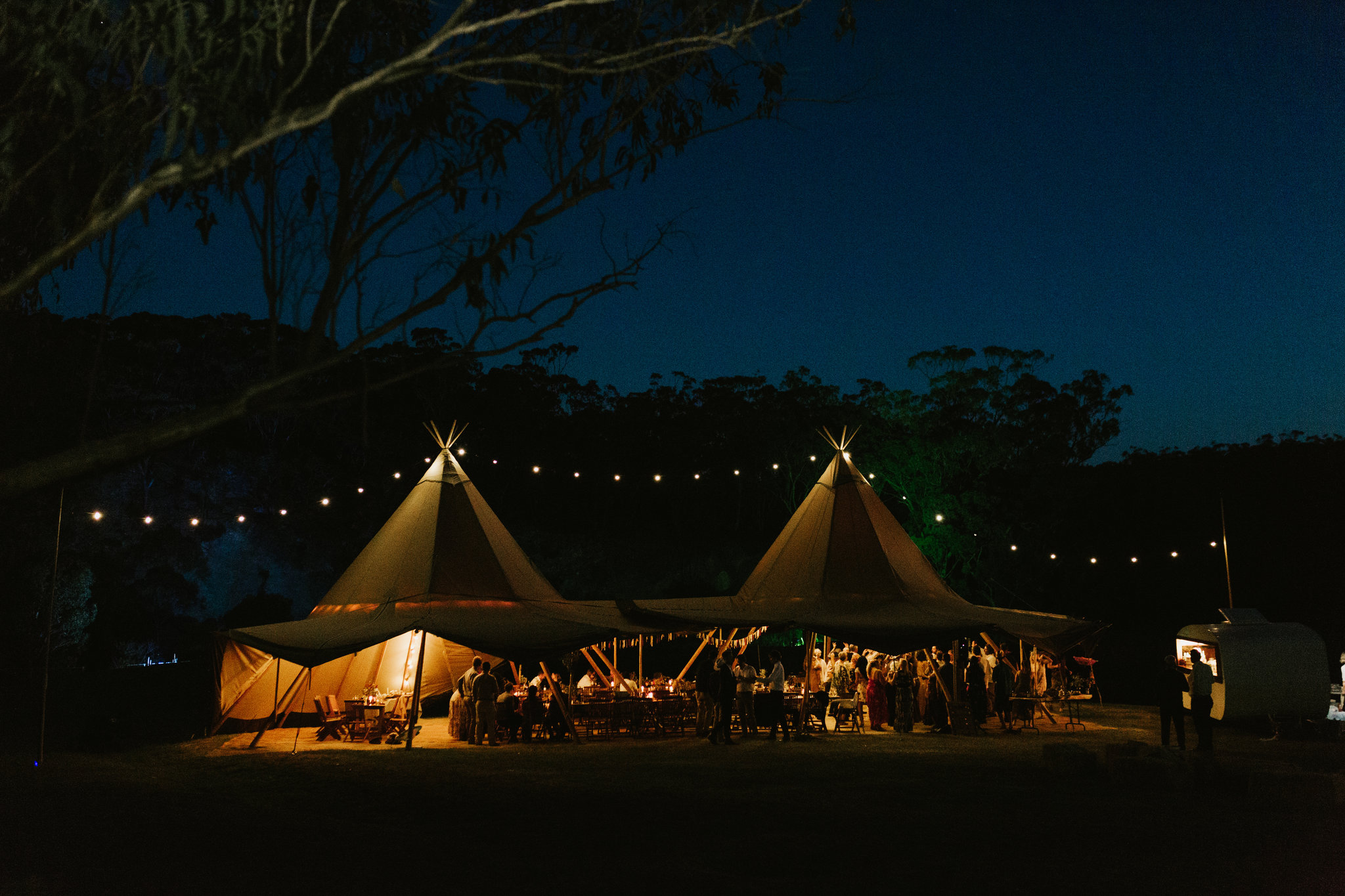 The Moorabool Paddock
With vineyard vistas and expansive picturesque views of the Moorabool Valley, our popular marquee site gives you an all-in-one solution at our unique winery wedding venue.
Available all year round, the Moorabool Paddock allows a functional, yet flexible area to host your celebration.
With site packages starting at $15,800 for 140 people inclusive of site fee, double tipi, flooring, furniture, silver caravan bar and much more. (Valued at over $25,000)
A third tipi can be hired for larger functions, please enquire for pricing.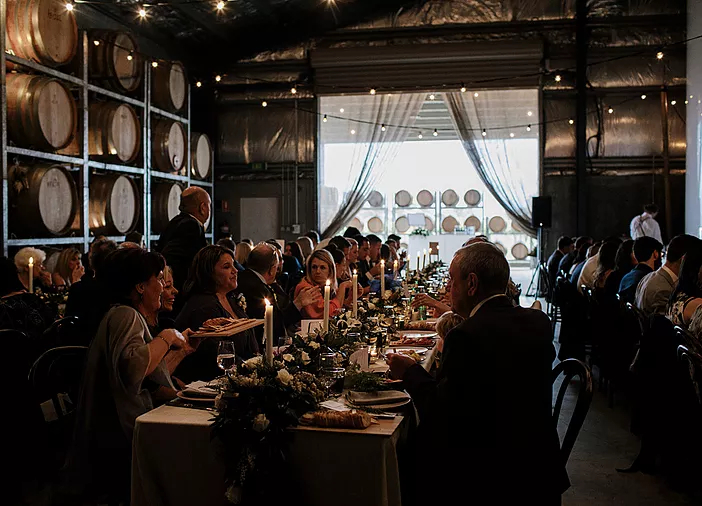 The Barrel Hall
The Austin's Barrel Hall is a bespoke working winery that enables you to bring to life the wedding you have always dreamed of. It's rustic, stylish and smells of fabulous wine!
There is enough space in the winery to seat up to 100 people and room for an outdoor terrace and/or dance floor. Being a working winery, we are unfortunately not able to offer the Barrel Hall package between February and April.
Packages start at $10,500 for site fee, hall set up, furniture and many extras.
Register your interest below for further pricing details.
Register your interest in Austin's wines and we will email you our wedding brochure, detailing inclusions and venue hire costs.
"From the moment we discovered Austin's, we knew it was where we wanted to get married. It had the winning trifecta; magnificent views and landscape, sensational wine, and a rustic but chic space for our reception. We only wish we could do it all again!"
– Grace and Pete Byrnes.