An impressive wine gift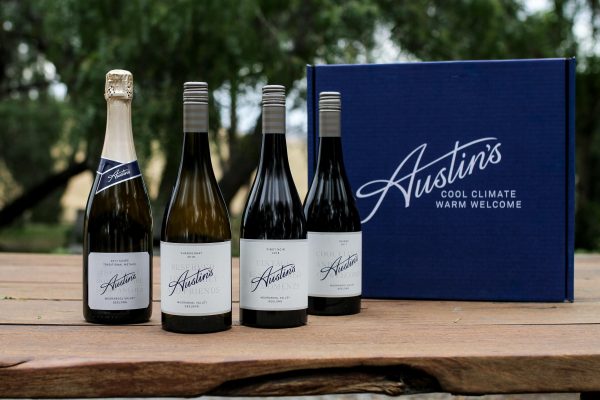 Need an impressive gift sent to the wine lover in your life? Enter the Austin's wine gift pack; mixed, white or red wine delivered in a beautiful and recyclable Austin's gift box.
Give a gift of wine love to the wine appreciator in your life. Our striking bottle designs and award winning, premium wines make for a beautiful gift all year round. These wines gift packs make gift giving easy during this busy time.
What's included?
Each gift pack includes four bottles of wine and  FREE delivery Australia wide.
Want a card included? simply write the card in the comments section and we will write it for you.
Four gift packs to choose from
There are four wine gift packs to choose from:
Mixed Gift Pack
Mixed Sparkling Gift Pack
1 x Cuvée Sparkling
1 x Austin's Chardonnay
1 x Austin's Pinot Noir
1 x Austin's Shiraz
White Gift Pack
2 x Austin's Riesling
2 x Austin's Chardonnay
Red Gift Pack
2 x Austin's Pinot Noir
2 x Austin's Shiraz
Create your own gift pack
To make life easier, we have pre selected gift packs however if you would like to create your own, simply add the Mixed Gift pack to your cart and write the details of what wines you would like in the comments section.
Need 10 packs or more?
Contact us for a special price.
24 hour next business day dispatch for fast delivery. We guarantee the quality of our wines.
THE DETAILS
Each wine gift pack includes 4 bottles of wine, a gift card if desired and delivery Australia wide to the lucky recipient.