YOU CAN BECOME A FOUNDING MEMBER WHEN YOU PURCHASE THIS LIMITED-EDITION WINE
Austin's is building a new cellar door, we are going to create an amazing venue that showcases the best wine and produce in the Moorabool Valley region. We're asking you to make a small investment in us, and in return, you will receive delicious premium wine. The result will be  a first-class space to be enjoyed by serious wine, food and fun lovers.
What started as a dream 10 years ago is ready to take shape.
The site's selected, the plans are drawn (thanks Matt Goodman).
We're ready to build the cellar door at our vineyard in Sutherlands Creek, Geelong.
We have raised the majority of the funds and now we are inviting you to be part of the build and become a founding member and enjoy the space for you to be able to celebrate wine.
We've always believed it's our privilege to make our wine for the people. And we thought what better way to remember what we're trying to achieve, than by having our cellar door built by the people..
So, we created limited-edition special blend wines for the occasion and our foundation members will have the chance to stamp their name on the door…literally.
Capturing the beauty of the region's landscape, we collaborated with local artist Natalie Anderson to create the labels for this release. The finished products are bottles to be admired as you enjoy their contents or presented to your favourite people as the gift that keeps on giving.
 
What's included in the Foundation Membership?
As if wonderful wine wasn't enough, we've included some delicious extras for our Austin's cellar door foundation members.
Invitation to the exclusive VIP pre-opening event where you get to see your name stamped on the door.
A 10% discount on any wine purchase or cellar door event for the first 12 months from opening.
Choose from either pinot noir or shiraz from our award-winning winery.
Strictly limited edition—only 330 dozen of each wine made.
Each bottle is individually numbered.
Available in mixed or straight dozens.

What wines are included in the Austin's Wines Founding Membership?  
We love a reason to put our creativity and skills to the test to perfect a blend. And we think we've risen to the occasion with these.
These wines would have been sent to the restaurant trade but 2020 had other ideas. Instead our premium wines have been bottled for this project. For $25 a bottle, it's also a great quality for the pice.
2019 Cellar Door Pinot Noir
Lovely ripe fruits of dark cherry and plum overlaid with savoury spice and firm structure.
2019 Cellar Door Shiraz
A cool climate shiraz with aromatics of ripe red berries and black mulberry. A smooth palate of concentrated berry compote, charry oak and a hint of vanilla.
12 bottles $299 – straight or mixed dozens available.
Artwork by Natalie Anderson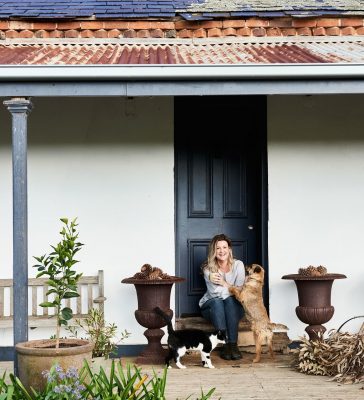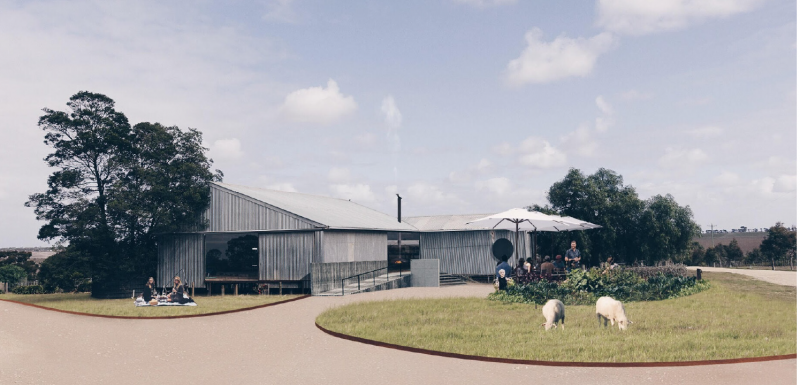 What will the Austin's founding member campaign achieve?
We'll be converting one of the working shearing sheds that's been on the property for over 50 years. There'll be ample room to build the cellar door and bar, a kitchen, casual seating and an outside picnic area. We're looking to build a multi-purpose space that will become the food and wine hub of the Moorabool Valley, showcasing the best produce and products from local suppliers and artisans. With a family-friendly atmosphere and amenities, there'll be lots of wide, open lawn for the kids to can run around, while the adults sit back and enjoy a bottle of wine, a bite to eat and the company of each other.
Why do you need to raise money for the project?
We wish we were in a position to fully fund this ourselves, but bushfires, drought and a global pandemic have all had an impact on the business this year. We know we could wait a few more years, continuing to save to make up the shortfall. But our restaurant sales have been limited thanks to Covid19, so we thought we would could use our Austin's wines to create something special that will keep the project moving forward. Because after all this is over, we're all going to be looking for great places and spaces where we can get together and create new memories.
Reaching out to the people that have supported us this far and giving them an opportunity to be a part of the next phase of our growth, is both satisfying and rewarding for us as business owners and people.
The project will re-use as much material as possible from the original shed, including the ramps, timber beams, barn doors and tracks.
What will the Austin's Cellar Door offer?
When we first created 6Ft6 wines, we wanted it to be 'The People's Pinot'. We wanted to make an affordable, enjoyable wine, for hardworking, fun loving people. We saw it as an expression of who we are.
We see the Austin's Cellar door as an extension of who we are – people who simply love wine and love how it's a channel to form conversation and connection. This cellar door will be a place that offers experiences, learnings and opportunities to connect and converse with a wide range of people, all with a common XXX of fun. This will include:
Wine/winery experiences such as Rent-A-Vine, day workshops, year long courses, blending workshops, wine tasting boards…
Wine tasting offered as a traditional drop-in, but also ticketed tasting sessions
Regular Sunday sessions with food trucks, cocktails and music
A community vegetable and herb garden which will be Richard's pet project
Pam is dusting off her apron to serve you a wine or two, answering any questions you may have
Liz is already taste testing cheeses to pair with the wines and researching her favourite caterers and food trucks
Kane our sales manager is working out where's going to be the best place to arrange his wine displays so you can pick up a carton on your way out
Kamahl who looks after our logistics is dusting off the ute and marking his bay in the carpark so there's a steady supply of wine
Scott's practicing his moves ready for the dancefloor
And Belle's trying to put her 1000's of ideas into some sort of workable order, ready for implementation.

A final thought
Yes, this cellar door is part of our business growth plan to expand our sales.
Yes, we want to expand our offerings to include experience-based tourism.
But above all, we just want to keep producing great wine, in a great venue, for great people.
As a foundation member, you get to be a part of that with us.
So, thank you. You really are making dreams come true.