WHAT A SALE!
Wine lovers unite, the sale is over and you got your fill. Make sure you sign up to our email list for first access to any upcoming deals or promotions.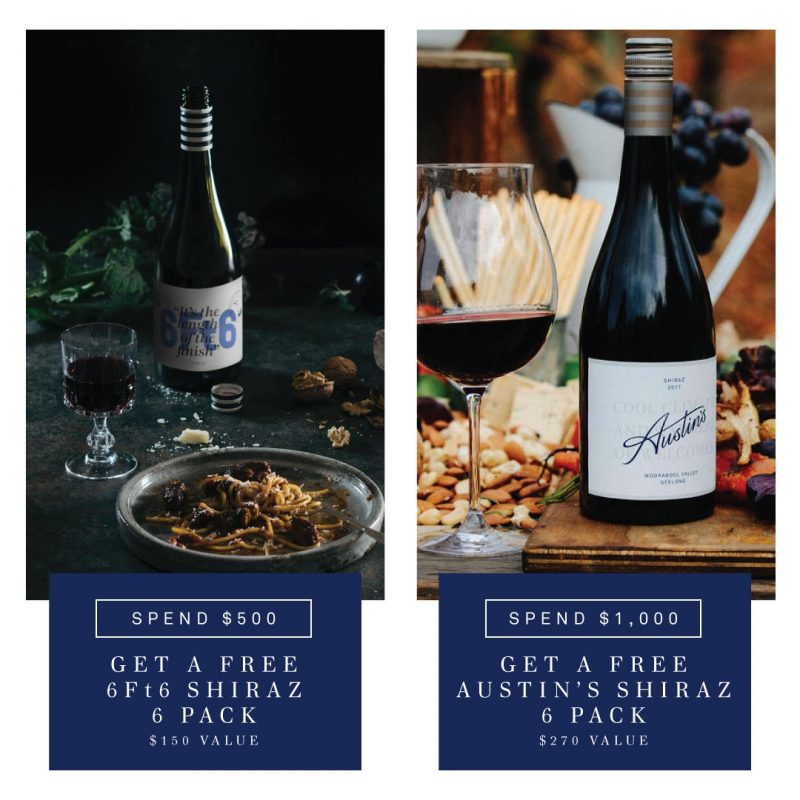 shop sparkling & dessert wine
The sale has is over, we appreciate your support.
If you are trying to chase a parcel, please contact us for assistance.
Austin's Virtual Wine Sale
25-40% OFF Austin's and 6Ft6 Wine. Stock will be limited.
When is it?
The Sale starts April 17 until April 21 or until stocks last.
What are the savings like?
Incredible savings for some quality wines across both of our Austin's and 6Ft6 brands. These discounts will be a minimum 30% off Austin's and 25% off 6Ft6 Wine.
Are the wines not quality, why are they on sale?
These are some of the best and most highly awarded wines we have ever made. Unfortunately with the recent lockdowns our stockists, restaurants and bars have experienced closures and this has affected our sales dramatically. We were on track for a sell out year prior to all of the closures.
Where do you ship to?
All over Australia and shipping is FREE* for the duration of the sale. We use Fastway couriers who offer a contactless delivery service.
*NT and WA have a $20 flat rate shipping charge.
Are dispatch and shipping times as per normal?
For most orders our couriers are unaffected, however there have been delays of one to two days for some orders. When ordering into states with strict border controls there have been extra delays at times. 
We will be dispatching orders from Monday April 20. Most orders will be dispatched within 48 hours after Monday April 20.
Is there a minimum buy?
Only straight 6 packs will be on sale. Mixed packs and single bottles will not be discounted. This is to ensure we can get the product to you as quickly as possible.